Watch this film. Claymation/Drawn Animation (Quicktime required)
** SPOILER WARNING **
WATCH THE FILM BEFORE READING THE TEXT.
Ok. Here I can prove I really do work sometimes. (Just ignore the fact that both of the sheets I am "drawing" on are blank. Whatever. What was I thinking? I blame that on photographer Derek Butler. I really did work hard this night, but you can't tell from these two photographs. He should have gotten more of the backdrop set of We Are Whatever We Dream when he took this photo. I should have taken a better photo of it, but I destroyed it when I moved and wanted to get rid of crap that I'll never use again. This is the light table that I flashed to do the sweet transition. You could probably just fake it on a computer tho, but whatever, I INVENTED THE SCIENCE. No, not really, I'm sure I borrowed it from elsewhere like the rest of those who have gone before me.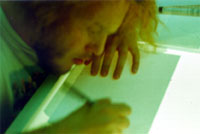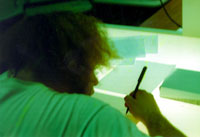 The light tables secret to the "special effect" of when my protagonist changed from clay back to into 2 dimensional paper was that when you see the flashing as it happens, it was just the light table going on and off. The animation lunchbox, which captures the frame shows you the next frame and current frame back and forth blinks while you're using it. I just recorded that live. I know. Pretty simple,huh? Kinda makes me seem not so brilliant. (Don't tell anyone.) Did I ruin it for ya? Didn't think so. Don't blink.
In Animation 1 class, I delved into Claymation with Journey Into The Mind's Eye. It is best if you belt out the title in a loud voice, like I did in class. I would scream it, actually. In fact, I called EVERY project in class the same title... everything I animated I would introduce to the class as Journey Into The Mind's Eye. It was a recurring joke, if you will.
It was apparent that Deanna Morse wouldn't be coming back by the time I was to graduate ( I will still on the 4-year plan at that point.) so I took an independant study that would count as Animation 2. It was a group independent study, so it was a bit of an oxymoron. Being the slacker I am, I just added to the existing footage instead of coming up with a new idea. It actually turned out well and is one of my favorite works to date. It became what We Are Whatever We Dream is today.
Watch this film.
(Quicktime required)
(Don't click the above link unless you have installed quicktime.)
(Don't overuse parenthesis.)